The basement is one of the most versatile areas in a home. Therefore, think of this versatile space when carrying out your home renovation. The flooring options you choose for your basement will depend on what you plan to use the space for. Basements come with their own set of challenges that need to be addressed before functioning optimally in any room within the house. 
Selecting the flooring option for this place proves to be a daunting task because of the many considerations that come into play. The flooring must withstand moisture, humidity and must be resistant to mold and mildew. Basements are also prone to seepage and flooding during rainy seasons, so it is important that the flooring you choose can handle these conditions as well.
Here are some of the basement flooring options you should consider when renovating this part of your home:
What is the Basement Subfloor?
A basement subfloor is a layer built below the floor covering, and it is responsible for transferring weight to the load-bearing walls. It also serves as an insulation layer between the ground and inside your house.

Image credit: https://vwbblog.com/
Basement subflooring provides support for underlayment, carpet, tile, or hardwood flooring, and they are typically constructed of plywood or OSB (oriented strand board) subfloor panels with waterproof glue or asphalt felt paper.
Factors to Consider Before Installing a Basement Subfloor
Moisture Entering the Basement
Is the basement exposed to water coming from outside? If it is, make sure that there are no cracks in the foundation. It's also advisable to install a waterproof membrane over the walls before starting construction. Moisture can invade your basement in many ways, even if you don't expect catastrophic events such as flooding.
 Basements are holes in the ground lined with concrete, and moisture from the soil seeps up over time. If you have a basement, there is always some moisture in the air, and if this air reaches the subfloor, it can cause damage. If your basement has a dirt floor, water will come through cracks and pores in the concrete.
If your basement has a concrete floor, water will come in through the seams between the floor and wall and cracks in the concrete. In either case, water will eventually find its way to the subfloor and cause damage.
Height of Basement Ceiling
Basement ceilings are low, and you can't even walk on them without crouching. This is normal for a basement, but it creates another problem with insulating. If you put stud or joist insulation on the ceiling, you will be wasting a lot of insulation. The insulation has to be at least 16 inches deep to have any real effect, and it's difficult to get that much insulation in a basement ceiling.
Types of Basement Subflooring
Vinyl Tile or Planks
Vinyl tile is a waterproof option that can hold all manner of spills and be put directly over concrete floors. It can handle foot traffic, and some higher-end emulates the appearance of wood and stone, which can give your basement floor a luxury look at a low cost. 

Image credit: https://www.thespruce.com/
This basement subflooring option can offer great value for your money. Installation of vinyl plank flooring and vinyl tile is very easy thanks to the interlocking joints. And any damage to the concrete floor can be repaired easily by replacing a tile or two.
Laminate Flooring
Laminate flooring is made to look like wood planks but is made out of fiberboard. This basement subflooring option is resistant to water damage and can resist spills that warp wood. To install laminate flooring, you'll need to glue down or float it into place.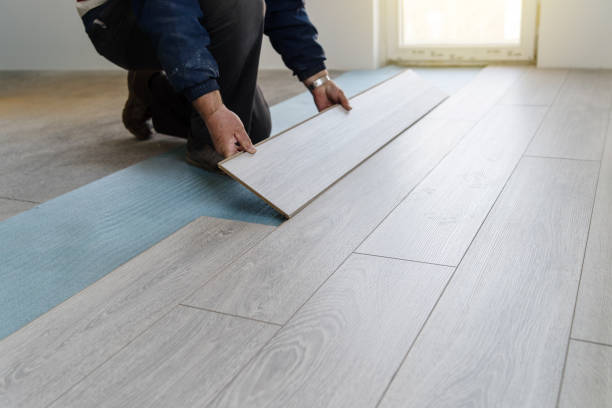 Image credit: https://media.istockphoto.com/
Carpeting
The carpet gives the basement a cozy feel, and it helps with soundproofing. Carpeting can hide many flaws in a concrete floor and is relatively easy to install. It's important to choose a type of carpet that can withstand moisture, as basements often have high humidity levels.
Concrete
If you want a subfloor that will never warp or rot, concrete is the way to go. However, it can be quite a challenge to install concrete on your own, which can be expensive. You'll also need to seal the concrete to prevent moisture damage.
Engineered Wood Flooring
Many people choose engineered wood flooring for their basements. This material is easy to install, affordable and looks great. Engineered wood flooring captures moisture, so you don't have to worry about warping or rotting boards. 

Image credit: https://empire-s3-production.bobvila.com/
Basements are prone to moisture, so opt for engineered wood flooring instead of installing hardwood flooring that will become warped or damaged if exposed. Engineered wood boards are made of layers of composite wood sealed with adhesives, making them less prone to swelling and can be glued into place or installed as a floating floor.
Plywood Subflooring Options
If you are looking for a more affordable option, plywood subflooring is a good choice. It is less expensive than engineered wood and can be installed over concrete or a wooden floor. Plywood subflooring should be at least 1 ½ inches thick and treated with a moisture-resistant sealant or paint.

Image credit: https://www.impressiveinteriordesign.com/
Plywood flooring is constructed of 5/8 plywood, exterior grade. It's also made of rigid foam insulation, two times four sleepers, and a water vapor barrier made of either paper or composite materials. Plywood subflooring is extremely efficient, cheap, and easy to assemble. You can easily do it yourself if you have the right flooring materials.
Tongue and Groove Subflooring
If you're looking to replace an old subfloor and create a solid and strong foundation for new subflooring, tongue and groove subflooring is a great option. It's made of kiln-dried lumber and is designed to provide a level surface for new flooring. Tongue and groove flooring is also resistant to moisture and thus makes it a good choice for basements and other wet areas.
Another benefit of tongue and groove flooring is that it's easy to install. You can do it yourself with a few simple tools. You can find tongue and groove in cut pieces of wood at your local hardware store and home centers. They are set nicely under the floor as a solid foundation that will never wear or tear.
OSB Subflooring
If you're looking for an affordable and efficient subflooring option, OSB is a good choice. It's made of Oriented Strand Board, a type of engineered wood. Because it's engineered, OBS is more stable and less likely to warp than traditional lumber. It's also resistant to moisture, making it a good choice for basements or other wet areas. Like tongue and groove flooring, OSB is easy to install. You can do it yourself with just a few simple tools.
Ceramic Tile Subflooring
If you're looking to create a beautiful and durable floor, ceramic tile is a great option. Not only does it look great, but it's also incredibly tough and can withstand heavy foot traffic. It's also affordable and timeless and can be installed directly over a concrete slab as long as the subfloor is fairly level. This tile is also unaffected by water and humidity, making it a great choice for basement floors.

Image credit: https://www.thespruce.com/
Rigid Foam Insulation Subflooring
We've all seen this type of subfloor in our basements. Rigid foam insulation is the most basic of basement flooring options. It's cheap, easy to install, and poses very little risk to installation mistakes. It can also be used on any underlayment, making it a widely popular option. This is an excellent basement subfloor option because it provides a thermal break between concrete and flooring.
FAQs about Basement Subfloor Options
Can you replace a damaged subfloor?
Yes, you can replace a damaged subfloor. You will need to remove the damaged section and replace it with new material. Make sure that the replacement material is level with the existing floor.
Final Thought about Basement Subfloor Options
As a versatile space at your home where you can turn to a spare room, living space, and kids' playroom, make sure your basement looks warm, inviting, and cozy by doing some finishing touches.  
The post Basement Subfloor Options appeared first on Kitchen Infinity.
Did you miss our previous article…
https://www.haversacktile.com/?p=715