When it comes to home interior design, there are many options available. However, you'll need to make the right choice to get the best results.  There are several types of flooring that can be used for your house interior design, but carpeting and hardwood are the most popular ones.
We've created this guide on carpeting vs hardwood flooring so that you can learn what factors may affect your decision when choosing between these types of flooring for your home interiors. So, if you're replacing your floors and wondering how to choose between carpeting vs hardwood flooring, don't worry. This article is for you.
Sustainability 
Carpets
Modern carpets are created by threading closely spaced loops of synthetic fibers through large sheets of backing material. There are also some natural fiber carpets made out of cotton and wool. Most carpets come in synthetic materials, and they're manufactured in huge rolls where they can be bought in any quantity.

Image credit: https://modernize.com/
Hardwood Floor
Modern hardwood flooring comes in one of two forms. There is solid hardwood flooring, which boasts of solid wood that is milled from rough lumber from felled hardwood trees. The boards are smoothly sanded on the top surface and are left slightly rough at the bottom. 
Another hardwood flooring form is known as engineered hardwood flooring. This is the most economical type of modern wood flooring. Engineered wood flooring has the same tongue and groove construction and can be installed the same way as solid hardwood floors.
ppearance
Carpet
Appearance is another big difference between hardwood flooring and carpet. Both hardwood and carpet flooring comes in several styles that can meet any interior design, but carpet offers variety in color, texture, and feel. While there's a substantial difference between hardwood and carpeted floors, carpets are more available in wood-like, making them more decorative. 
The great thing about carpet is that you can choose any color, making it a very versatile flooring choice as you can mix and match colors and shades based on other design choices in your room.
Hardwood
The look of hardwood flooring is easily recognizable, and its main appeal is natural wood tone colors and the appealing pattern of wood's grain. Hardwood flooring creates a bold statement, and that's why it's called the prestige in flooring. When it comes to appearance, your style and the style of your house will determine the best flooring option.
Cleanliness and Care
Hardwood Flooring
Hardwood flooring is easy to care for and maintain with regular cleanups. This flooring type doesn't require deep cleaning too often. While cleaning hardwood floors, it's advisable not to use liquid cleaning products as these can warp and damage the natural fibers that make up the floorboards.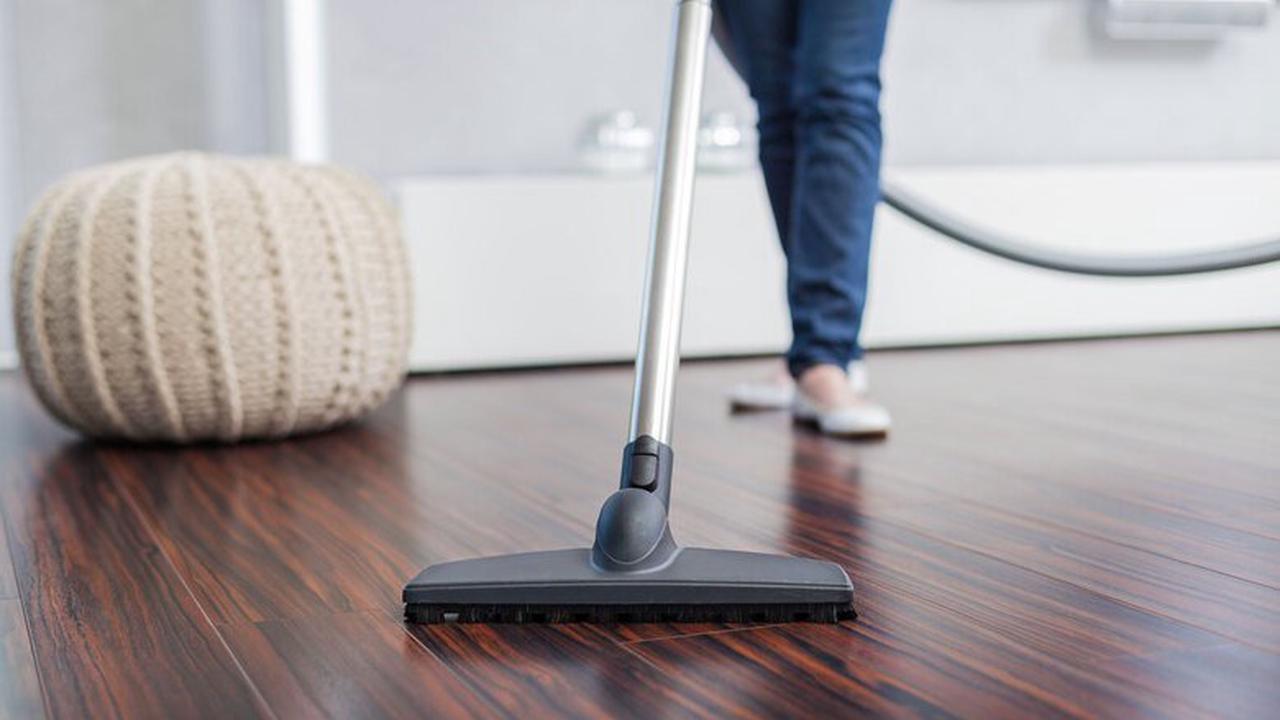 Image credit: https://res.feednews.com/
It's also easier to spot dirt on hardwood floors than carpet floors, making it easier to notice when your floors need a wipe and a good cleaning. Hardwood floor cleanings include sweeping and vacuuming with a hardwood vac to maintain its appearance and condition. Periodic damp mopping with the wood cleaner will also remove deeper dirt and most stains.
Carpet
Cleaning carpet flooring seems daunting because stains can soak and settle permanently on the surface. To prevent stains, turn your rug over once a week to let the other side be exposed to sunlight and air for a day. Not doing so can create a musty smell forming on dark spots in your carpet, especially if you have pets at home. 

Image credit: https://2avk1yzaj801re7g11oaur7q-wpengine.netdna-ssl.com/
Wipe spills immediately using a clean cloth with warm water or a commercially available solution. Regular vacuuming can also help get rid of dust, dirt, pollen, and other allergens. If left without vacuuming, these elements can get stuck in the carpet fibers causing unpleasant odors.
Durability and Maintenance
When considering the durability of your hardwood flooring vs carpet, there are different things that you must consider. Don't only concentrate on the lifespan of the flooring type, but consider the impact of your daily life on it. Factors such as foot traffic, your habits, visitors, and pets will greatly influence the durability of your flooring.
Hardwood Floors
Hardwood is a durable material that can last 50 to 60 years if properly maintained. But they're also more expensive in most cases. When evaluating cost, consider the initial price of the wood flooring and its installation and maintenance costs over time. Think about how much it costs to refinish hardwood flooring
Hardwood flooring will also last longer if you care for it properly, both by taking good care of it and making sure that you clean up spills quickly. Hardwood floors can also warp when exposed to too much liquid and can dent and scratch from furniture movement and shoe traffic.
Carpet Flooring
Carpet is a more forgiving floor type. As long as you deal with spills immediately and frequent vacuuming, you won't have to worry about dents and scratches. However, carpeting still does need occasional professional upkeep, such as cleaning and re-stretching. Occasional professional cleaning service can also extend the life of your carpet. 
The best flooring type for durability and maintenance is hardwood flooring because it is made to last and does not need any professional upkeep. Even if you do manage to inflict some damage, hardwood flooring can be refinished or patched, unlike carpeting which has to be completely replaced when damage is done.
Cost and Installation of Carpet and Hardwood Flooring
Hardwood
Professionals usually do hardwood flooring installation because of its weight and intricacy. You will need to foot the bill for this aspect of the project, too, as well as for upkeep in general. A DIY installation can save you money and time, but it can cause you some additional cost if not properly installed.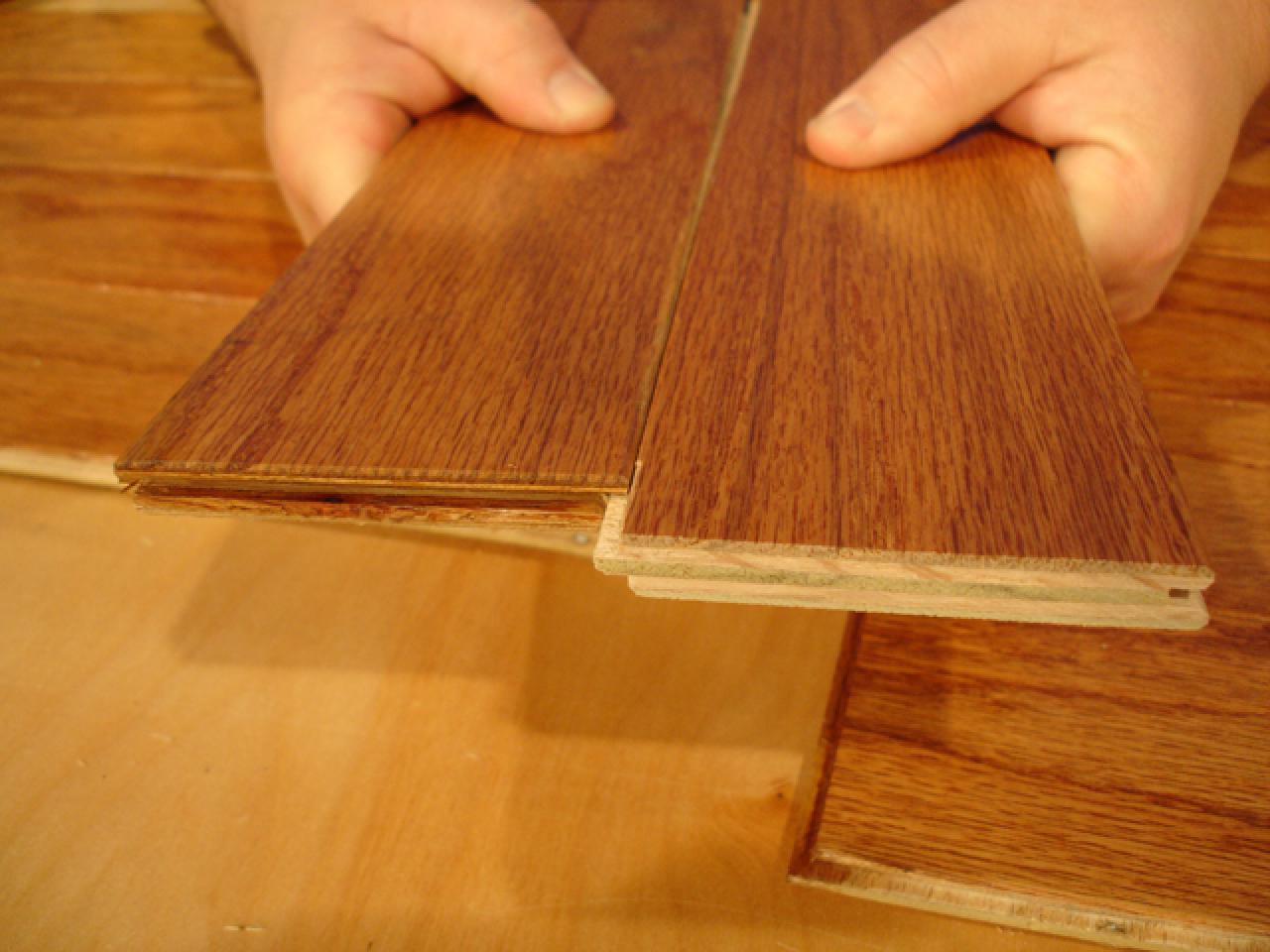 Image credit: https://diy.sndimg.com/
Fortunately, solid hardwood flooring and engineered hardwood flooring products are pre-finished in the factory, but you'll have to pay more to have them pre-finished. Solid hardwood floor costs start at around $4 per square foot and go up from there. And on average, hardwood floors cost about $8 per square installed.
Carpet
Installation of carpeting can be done yourself or by a professional at your request. Carpet padding is about an inch thick, and if you purchase high-quality padding, it will last the life of your carpet. It will cushion your feet from bumps in the floor and keep the carpet fibers uniform and neat-looking. 

Image credit: https://www.timberlinehouston.com/
The most convenient flooring for cost and installation is carpet flooring because it can be pulled back to install underlayment for hardwood flooring. It's also cost-effective compared to hardwood flooring.
For example, perfectly acceptable carpeting may be available for less than $1 per square foot installed. The cost can also run as high as $20 per square foot.On average, most carpets purchased at home centers cost about $3 per square foot, while solid hardwood flooring starts at around $4 to $8 per square foot installed. Also, the cost of professional installation is higher on hardwood floors.
Resale Value
Hardwood
Most homeowners prefer having hard flooring surfaces such as hardwood and ceramic tiles because they're easy to clean and tend to hide flaws the best. Even estate agents agree that when it comes to carpet or hardwood flooring, hardwood is likely to increase the resale value of your home. Hardwood is a natural material and is much longer-lasting than carpet.
Carpet
Carpeting tends to wear down over time and may show signs such as wrinkles, spots and footprints after a few years of use. All these tend to lower the resale value of the property which you're trying to sell. Also, new carpet can also lead to home improvement than an old carpet.
They could also be a turn-off for potential homebuyers who'd rather have hardwood that's clean and in good condition. Therefore, the flooring type with the best resale value is hardwood flooring. Hardwood resale value wins even when you ask real estate agents in the market.
Radiant Flooring
Both carpets and hardwood floors can be installed with radiant heating. And because of the insulating properties, you must be careful when choosing both carpet and radiant heat systems that can work together. In some cases, you may need to set the radiant heat system higher for the carpet to warm sufficiently.
On the other hand, hardwoods work with many radiant heat systems because they transmit heat with little loss. But it's not recommended to use radiant floor heating under a plank wider than three inches.
Environmental Impact
Carpet
Some natural carpets such as wool have less impact on the environment than synthetic carpeting. Wool and other natural fibers are renewable and biodegradable. Furthermore, most synthetic carpets are made from petroleum which is not renewable and is a non-biodegradable material. 
They can break down unevenly, releasing volatile organic compounds as they age. The downside of natural fibers is that they cannot be recycled, and when disposed of in landfills, they will take a very long time to decompose.
Hardwood Flooring
If you're concerned about the environment and want renewable flooring, then hardwood flooring is your best option. Hardwood is a renewable material, especially if you ensure responsible harvesting and planting of trees.
Homeowners who are looking for more sustainable flooring material can look to hardwood flooring as their best option. Most hardwoods are also recyclable, which means they won't sit in landfills for decades.
Water and Heat Resistance
Carpet
The synthetic fiber materials used in most modern carpets make them highly resistant to water damage. It's also important to prevent water from seeping down into carpet padding, which can cause mold and mildew growth. This is especially important with groundwater damage from flooding or leaky roofs.
Additionally, tile carpets can be damaged by heat, such as burning cigarettes and hot pans. Some carpet materials can also emit toxic gases if a serious home fire ignites.
Hardwood Flooring
Wood flooring is not recommended in any location with constant water and moisture. It's also not recommended for below-grade installation against a concrete slab because contact with concrete can cause swelling. Wood flooring materials also emit formaldehyde gas over time. However, engineered wood flooring may be stable to water and moisture.
Engineered hardwood flooring has a moisture barrier to stop water from seeping into the subfloor before it ever reaches your main joists below. You can also install engineered hardwood flooring directly against concrete slabs that are dry and free of cracks or joints where water could infiltrate.
Comfort and Sound
Carpet
With its soft fibers and insulating pad, carpeting is more comfortable to walk on than hardwood floors. High-pile carpeting is soft and thick underfoot, while lower-pile carpeting feels more like an even surface. Carpet can be made from various materials, including nylon, wool, cotton or synthetic fibers. 
The sound absorption of carpet comes from the insulating pad underneath the carpet fibers, but that means the carpet is better at trapping sound inside the house.
Hardwood Flooring
Hardwood floors are loud compared to carpet, especially when installed on the upper levels; the people below will hear footsteps and other sounds from above. The hardwood floors amplify the sound of children running on the upper levels because it's a harder surface with no insulation capabilities.
Hardwood floors are less comfortable underfoot, but they have a timeless elegance that carpeting can't match. Also, since hardwood floors are laid in strips, any surface imperfections can be covered up with a strip of wood over the problem area or damp mopped to free the particles.
FAQs on Carpet and Hardwood Flooring Comparison
Which type of flooring is suitable in an active environment?
High-quality carpets can sustain high foot traffic if you keep them level and smooth to avoid irregular wear.
Which one is the warmer flooring type?
Carpeting is warmer than wood flooring, but only when the carpet is not glued directly onto concrete. Wood floors, on the other hand, allow cold air to move through between individual boards.
Final Thoughts on Carpet vs Hardwood Flooring Comparison
As you can see, there're many factors you need to consider when choosing between carpet and hardwood flooring. The answer on which one is better depends heavily on your particular situation, budget, and taste.
The post Carpet vs Hardwood Flooring Comparison appeared first on Kitchen Infinity.
Did you miss our previous article…
https://www.haversacktile.com/?p=509