Bathrooms can be a total mess. It seems like you never have enough storage space, and every time you need something in there, it's always at the bottom of a pile somewhere. Most bathrooms are small spaces that make organizing hard, if not impossible. 
On top of that, we all have our personal preferences for keeping things clean and tidy. Luckily we have lots of easy ways to organize your bathroom with little to no cost involved. We've rounded up some bathroom storage ideas below so you can get started on making yours look neater immediately.
dd a Shelving Unit Above the Toilet
There are lots of ways to store toiletries above the toilet. You can put up a cabinet, use a wall-mounted shelf, or get creative with what you have around your bathroom. Many companies also sell shelving units made to fit around standard-size toilets.

Image credit: https://cdn.decoist.com/
Another great option is to build open shelving above the toilet for additional storage. Doing it on your own provides more opportunities to match the shelving with your home decor style. Also, consider open shelving.
These open vanities are classic and can make any sink look like a modern floating style and they don't take up too much visual space in small bathrooms. You can easily add floating shelves underneath for attractive storage baskets that can even disguise the plumbing.  
Lean a Ladder for Towel Storage
The space between the bottom of your shower and the ceiling is a great place for storing towels if you have an old ladder lying around. This is one of the straightforward ways to hang towels in your bathroom, especially when you add hooks or a towel bar to the wall.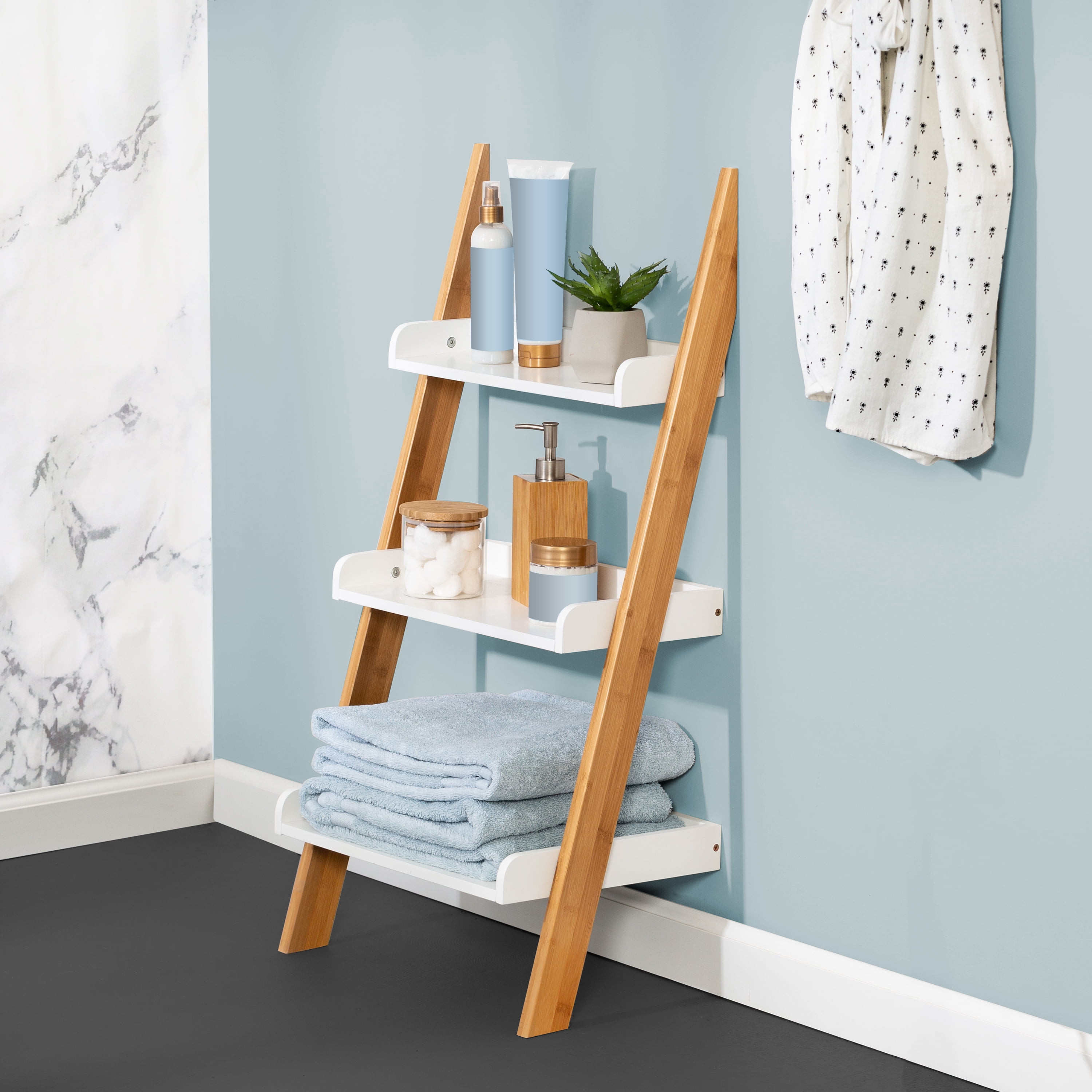 Image credit: https://i5.walmartimages.com/
Incorporating ladders into your modern bathroom for hanging towels lets you maximize that vertical storage. Plus, you can hang hooks and baskets from a ladder to store washcloths and other toiletries.
Mount Shower Caddy Using Suction Cups
Hanging a shower caddy from the ceiling is an easy way to free up space in your bathroom. All you have to do is screw a hook into your ceiling, then fix strong suction cups or adhesive hooks to the shower surround. This frees up both counter and floor space while also giving you easy access to your bath products, linens, candles, and other toiletries when you're in the shower.

Image credit: https://m.media-amazon.com/
A wall-mounted bath caddy allows you to store more items without taking up any extra storage. A bath caddy is one of the easiest and inexpensive small storage bathroom ideas to implement.
Store Your Reading Material
One of the best ways to free up counter space is to store your reading material elsewhere when it comes to bathroom organization. A great place to put it is in a magazine rack or bookcase that's mounted next to the toilet. This way, you can grab your reading material when you're finished with your business, and you won't have to clutter up the countertop.
Store Items on the Inside of a Cabinet Door
If your bathroom doesn't have a great deal of counter space, every inch is valuable. However, there are several items you can store on the inside of cabinet doors to free up room. For example, place an over-the-door shoe rack on the back of your bathroom door or in another inconspicuous area so you can store extra towels or shampoo bottles. 
You can also buy a tension rod and hang it on the back of your cabinet door to store washcloths. You can also take advantage of this space by attaching clear bins to the doors in which you can store everyday essentials. Label each bin and add dates to items that have an expiration. This way, you'll know where everything is, and nothing will go to waste.
Create Some Space for a Hair Dryer
If you don't have a lot of space in your bathroom, try to find an alternate spot for your hairdryer. You can hang it on the back of your bathroom door or a hook on the wall. This way, you'll have more room to store other items.
To implement this bathroom organizing idea, you can use an over-the-door rack to fit wider items, including hair tools. The nest part is that you won't need to drill holes to hang it.
Keep Stylish Items on a Tray
If you want to keep your bathroom looking stylish, try placing all of your luxury items on a tray. Everyday household items, such as hand lotion, perfume, jewelry, cotton swabs, makeup brushes, and tissues can be placed in canisters or jars so they don't take up room on the counter. Decorate your bathroom countertop with a stylish tray to hold some of your most-loved and visually appealing items.
Use Lazy Susan in Your Bathroom Cabinet
A Lazy Susan is a round turntable that can be installed into your bathroom cabinet. You can use this to store all kinds of items, including makeup, hair appliances, and personal hygiene products. Simply spin the lazy Susan to find what you need. 
Use Cups or Jars for Storage
Add three mason jars to your medicine cabinet to make quick work of organizing toothbrushes, cotton balls, and swabs. You can even use cups or votive candle holders for storage on the countertop to hold your makeup brushes or favorite perfumes.
By storing items vertically inside a jar or cup, you can make better use of the vertical space inside the cabinet. This bathroom organizing idea requires you to keep items together. These include one jar for cotton balls, one jar for cotton swabs, and another for other necessities.
Create a Skinny Alcove
Use a skinny alcove in your bathroom to store smaller items like lip balm, sunscreen, or hand sanitizer. You can also fit larger items into the space by turning them to their sides. By using the vertical space within the alcove, you can stack extra towels and hold baskets with all your skincare products without sacrificing surface area in your bathroom.
Designate a Place for Dirty and Clean Towels
You can keep your bathroom neat and organized by designating a place for dirty towels. After you're done in the shower, hang the towel on a hook right next to the shower or tub. If possible, create a small spot for a hamper so clothes and wet towels don't end up in a pile on the floor. You can roll some clean towels and store them on top of the hamper to save space.
Roll Up a Bar Cart
If you have an unused bar cart sitting around, grab it and roll it into your bathroom. You can fit the cart perfectly in the corner, so you will free up some counter space if there's no room next to your sink. You can also use this area as a makeshift vanity area since there are many drawers for all of your beauty. This is also a good place for flowers to freshen up a guest bathroom or powder room.
Blend It in with Colors and Patterns
If you're aiming for a more sophisticated and chic style, match your bathroom organizer with the colors and patterns on your shower curtain. For example, if your shower curtain is white with colorful flowers, an all-white or cream laundry hamper will fit right in. 
Paint it the same color as your wall for a clean, cohesive look if you're looking to keep your bathroom storage shelving from standing out as a focal point. This also allows the entire space to feel sleek, clean, and fresh. Check how to paint the bathroom to get some amazing ideas.
Create Storage Unit Under the Sink
If you're short on storage space, consider creating a hidden storage unit under the sink area. This is a great place to store bins for toiletries, cleaning supplies, and towels. You can even buy a special cabinet or organizer specifically for this purpose. While a decorative shelf is mounted on the wall for decorative items, the under-sink area offers you room to stow items out of sight, even if you have a tiny bathroom.
Fake a Linen Closet
Don't panic if you've got a space that doesn't have room for an actual linen closet or the previous owner took the closet when they purchased your home. Instead of having no place to hang damp towels and hand towels, give this idea a try. Take advantage of the free corner wall and add a shelving unit there. You can also attach baskets to the wall for a spot to fold extra towels and washcloths. A slim wall unit will also work.
Organize Bath Toys in Waterproof Bins
Do your kids have bath toys that they never seem to put back when it's bath time? Turn a cheap plastic organizer into something functional. Niches in the wall are a great spot for storing such toys in a small plastic bin. If you don't have a niche, turn to a strong suction cup near the bath. You can also hang an extra shower curtain tension rod along the back wall of the tub and add hooks so that you can hang toy bins.
Divide Vanity Drawers into Sections
Don't let your bathroom vanity drawers look like junk drawers. Instead, purchase drawer dividers and group items together to make your drawers functional and appealing storage spaces. Curate your new vanity drawers with commonly used products that make sense in your household.
FAQs on Creative Bathroom Organizing Ideas
What are the three types of bathrooms?
Bathrooms are categorized as the master bathrooms, containing a shower and a bathtub adjoining the largest bedroom. There is also a full bathroom or full bath, containing four plumbing fixtures, including a toilet and a sink, and a half bathroom or powder room, containing just a toilet and sink.
Final Thought on Creative Bathroom Organizing Ideas
As you can see, bathroom organization isn't as simple as throwing everything into a cabinet and closing the door. You have to plan out where things will go and what you want to bring together in one place. 
Try these bathroom organizing ideas to spice up your space. Don't let the lack of storage or time be an excuse for not washing your hands after using the restroom! Take some time out of your day to organize, and you will thank yourself later.
The post Creative Bathroom Organizing Ideas appeared first on Kitchen Infinity.
Did you miss our previous article…
https://www.haversacktile.com/?p=861